So, we've looked at Single Strokes and Double Bass so far. Now it's time to look at Double Strokes. For some drummers these are a real challenge, primarily because they are self-taught rock drummers and rock and roll doesn't require double strokes. Jazz drummers know all about them: you can't be a good jazz drummer and not play doubles.
So, if you're a rock drummer who does not have a good grasp of this important skill, or you're a new drummer who wants a well-rounded technical palette, you will need to get double strokes into your "bag". These lessons are intended to be a first step.


Double-Strokes are foundational to jazz playing. If you're a rock drummer, you might be thinking, "Well, I don't play jazz; why do I need this?" Because it will make you a better drummer, that's why! Isn't that why you've spent hours online searching for drum sites? Isn't that why you're here?
Doubles are quite a barrier for some drummers. The idea here is to start doubles by playing each note with a "push"; that is, by actually forcing the stick into two hits with your wrist. You then work into a "bounce", "pushing" the first note, but letting the stick's natural bounce play the second note. This is difficult, and learning control of the bounce is what it's all about.
Give yourself some time with these. Start by "pushing" all the notes, gradually increasing your speed. Then, begin to develop the "bounce" on all the double-note groupings in these exercises. Again gradually build speed. Then, develop the ability to pick and choose which doubles you "push" and which you "bounce", alternating them. This will improve your control and your touch!
As you improve, see how quietly you can play these exercises!
As always, these exercises are meant as a starting point: you are encouraged to develop them further.


First, go to Warming Up and get loose. Concentrate on the Double-Stroke warmup (#4):

---
The first exercise is a simple method of getting your hands to stop thinking in terms of alternating double-strokes. Start these slow, then speed them up until they hurt. Do three reps, then move on.
---
Recognize this? It's our old friend the Paradiddle. Great double stroke exercise.

---
This is kinda like the Paradiddle, except it isn't. You may actually find this easier than the Paradiddle. Do as above.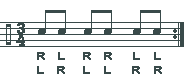 ---
The Double Paradiddle adds another set of single strokes before the doubles. This does the same. Do as above.

---
In this one, we've taken the Paradiddle and added only one stroke before the "diddle"! Makes it kinda goofy, but it shouldn't be too hard.

---
This one may throw you off a bit. We've added a rest. It's just like the first one, except you don't play the other hand (well, maybe it isn't like the first one!) Do as above.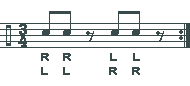 ---
Kinda simple: we've taken #3 above and added another set of singles. These are good for muscle conditioning. Do as above.

---
This is basically a "backwards" Paradiddle. Don't cheat and count it like a regular Paradiddle! It sets up the last two exercises.

---
See what's happening here? OK, aside from the odd time signature, what we've done is take the Paradiddle in #8, lop off the last note, tack another Paradiddle on with reversed sticking, again lopping off the last note. This one should drive you mad. Practice it until you can do it in your sleep. Then throw it in as a fill next time you're playing "Freebird" at the Cantena (work it around the toms). See if your band still likes you.

---
This one's for free. It's not as hard as #9, but it combines the Paradiddle and the "not-quite-Paradiddle" of #3. Get it to sound like a buzz roll!



Well, if you have stuck with this then either you're a jazz drummer or you want to be a better drummer (hopefully everyone has kept with us). We could do a whole year on Double Strokes. They're that important!
Future exercises will delve into wierd patterns; and we'll add rests.
Keep me posted!